3D Rendering Software to Create Amazing Visuals
With KeyShot you can create amazing visuals fast. The real-time 3D rendering workflow displays results instantly and reduces the time it takes to create realistic product shots. From scientifically accurate material and environment presets to advanced material editing and animation, creating interactive product visuals or sales and marketing imagery has never been easier.

Easy
You don't have to be a rendering expert to create photorealistic images of your 3D model. Simply import your data, assign materials by dragging and dropping them onto the model, adjust the lighting, move the camera, Done!

Fast
Everything inside KeyShot happens in Realtime. KeyShot uses unique rendering technology which makes it possible to see all changes to materials, lighting, and cameras instantly.

Accurate
Scientific accurate materials that represent properties like IOR, dispersion and subsurface scattering. Physical Lighting Add area, point or IES light sources by applying a light material to any piece of model geometry.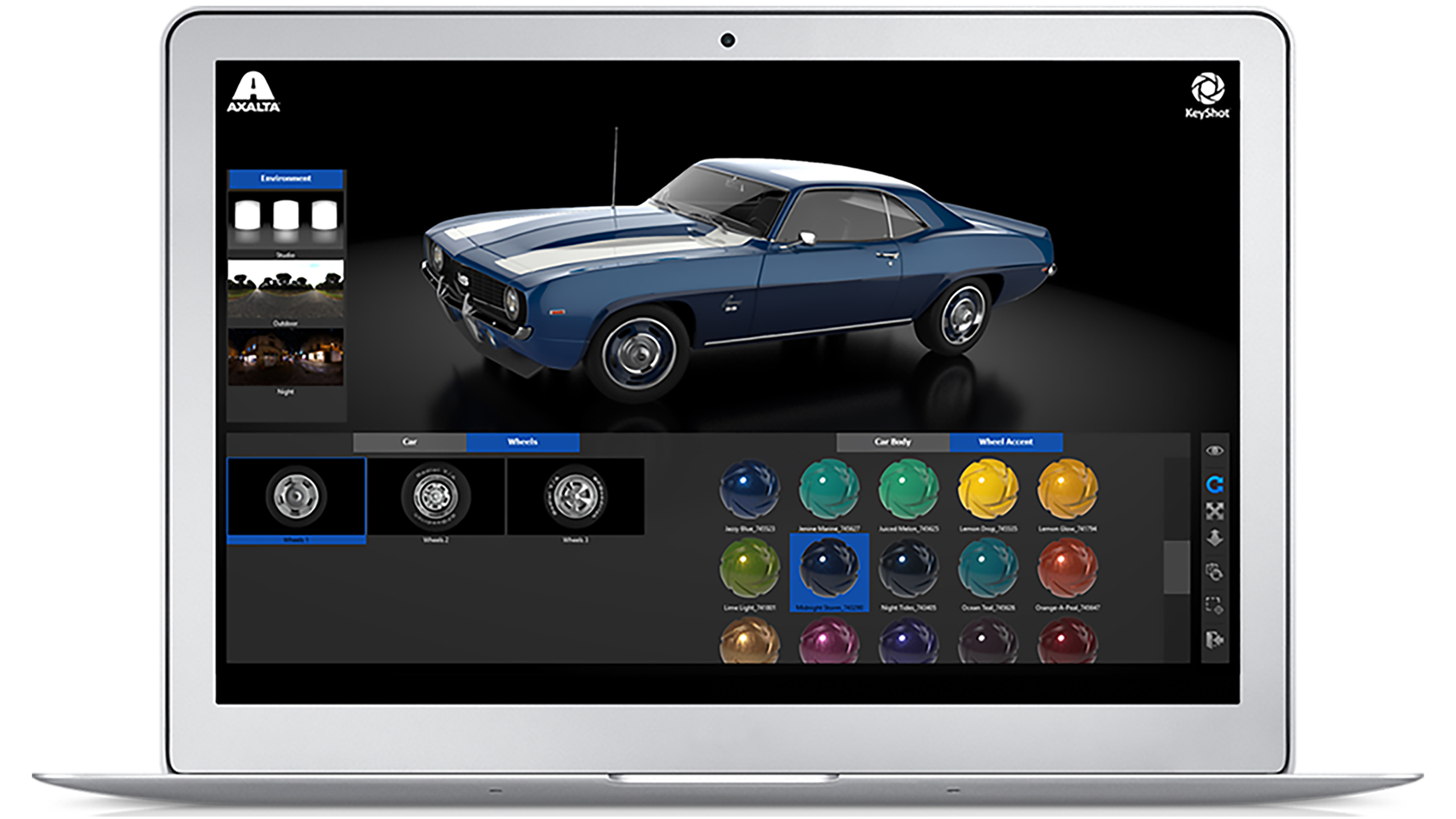 KEYSHOT 8 HD
SINGLE USER
Unlimited resolution
600+ material presets
60+ HDRI environments
Progressive global illumination
Image-based HDRI lighting
Physical lighting (Area, Point, IES)
Scientifically accurate materials
Pantone, RAL and CIE Lab colors
KEYSHOT 8 PRO
SINGLE USER
All KeyShot HD features
KeyShot Animation
KeyShot HDRI Editor
KeyShot Material Graph
Configurator/Presentation tool
Geometry Viewer/Editor
Region rendering
Render queue
Scripting
KEYSHOT 8 PRO
FLOATING
All KeyShot Pro features
KeyShot Animation
FlexNet based server license
Floating license manager
Floating license borrowing
Camera animation
Part and object animation
Multiple turntable animations
KEYSHOT 8
ENTERPRISE
All Pro Floating features
Interactive KeyShotXR
32 Cores Network rendering
Plugin for Siemens NX

P

P

P

P
[ucaddon_content_box_zoom_effect title="Jakub Kowalczyk" image="219728″ link="https://www.keyshot.com/customers/jakub-kowalczyk/" description="LS0tLS0lM0NiciUzRSUwQUpha3ViJTIwS293YWxjenlrJTIwaXMlMjBhJTIwU2VuaW9yJTIwQ29uY2VwdCUyMEFydGlzdCUyMGFuZCUyMElsbHVzdHJhdG9yJTIwYXQlMjAxMSUyMGJpdCUyMHN0dWRpb3MlMjBTLkEuJTIwYmFzZWQlMjBpbiUyMFdhcnNhdyUyQyUyMFBvbGFuZC4lMjBXaXRoJTIwZXhwZXJ0aXNlJTIwaW4lMjBhdG1vc3BoZXJpYyUyMGRlc2lnbiUyMGFuZCUyMGVudmlyb25tZW50cyUyQyUyMGhlJUUyJTgwJTk5cyUyMGJlZW4lMjBpbnZvbHZlZCUyMGluJTIwYWxsJTIwcGhhc2VzJTIwb2YlMjBnYW1lJTIwZGV2ZWxvcG1lbnQlMjBmb3IlMjBwb3B1bGFyJTIwdGl0bGVzLiUyMEhlJTIwaGFzJTIwYSUyMHVuaXF1ZSUyMGFwcHJvYWNoLi4u" color="#ededed" uc_fonts_data="JTdCJTIydGl0bGUlMjIlM0ElN0IlMjJmb250LWZhbWlseSUyMiUzQSUyMlJvYm90byUyMiUyQyUyMmZvbnQtd2VpZ2h0JTIyJTNBJTIyNTAwJTIyJTJDJTIyZm9udC1zaXplJTIyJTNBJTIyMjRweCUyMiU3RCUyQyUyMmRlc2NyaXB0aW9uJTIyJTNBJTdCJTIyZm9udC1mYW1pbHklMjIlM0ElMjJSb2JvdG8lMjIlMkMlMjJsaW5lLWhlaWdodCUyMiUzQSUyMjEuN2VtJTIyJTJDJTIyY29sb3IlMjIlM0ElMjIlMjM2YjZkNmYlMjIlN0QlMkMlMjJyZWFkX21vcmVfdHh0JTIyJTNBJTdCJTIyZm9udC13ZWlnaHQlMjIlM0ElMjI1MDAlMjIlMkMlMjJjb2xvciUyMiUzQSUyMiUyMzAwMDAwMCUyMiU3RCU3RA=="]
[ucaddon_content_box_zoom_effect title="Opkix" image="219730″ link="https://www.keyshot.com/customers/opkix/" description="LS0tLS0lM0NiciUzRSUwQU9wa2l4JTIwaXMlMjBDb3N0YSUyME1lc2EtYmFzZWQlMjBwcm9kdWN0JTIwY29tcGFueSUyMGZvY3VzZWQlMjBvbiUyMGRlc2lnbmluZyUyMGFuZCUyMGRldmVsb3BpbmclMjB0aGUlMjBzbWFydGVzdCUyQyUyMHNtYWxsZXN0JTJDJTIwc2ltcGxlc3QlMkMlMjBhbmQlMjBtb3N0JTIwcG93ZXJmdWwlMjBjYW1lcmFzLiUyMFRoZXklRTIlODAlOTl2ZSUyMGJyb3VnaHQlMjB0b2dldGhlciUyMGJvdGglMjBoYXJkd2FyZSUyMGFuZCUyMHNvZnR3YXJlJTIwd2l0aCUyME9wa2l4JTIwU3R1ZGlvJTIwYW5kJTIwdGhlaXIlMjBwcmVtaWVyJTIwcHJvZHVjdCUyQyUyMHRoZSUyME9wa2l4JTIwT05FLg==" color="#ededed" uc_fonts_data="JTdCJTIydGl0bGUlMjIlM0ElN0IlMjJmb250LWZhbWlseSUyMiUzQSUyMlJvYm90byUyMiUyQyUyMmZvbnQtd2VpZ2h0JTIyJTNBJTIyNTAwJTIyJTJDJTIyZm9udC1zaXplJTIyJTNBJTIyMjRweCUyMiU3RCUyQyUyMmRlc2NyaXB0aW9uJTIyJTNBJTdCJTIyZm9udC1mYW1pbHklMjIlM0ElMjJSb2JvdG8lMjIlMkMlMjJsaW5lLWhlaWdodCUyMiUzQSUyMjEuN2VtJTIyJTJDJTIyY29sb3IlMjIlM0ElMjIlMjM2YjZkNmYlMjIlN0QlMkMlMjJyZWFkX21vcmVfdHh0JTIyJTNBJTdCJTIyY29sb3IlMjIlM0ElMjIlMjMwMDAwMDAlMjIlN0QlN0Q="]
[ucaddon_content_box_zoom_effect title="Jason Tanks" image="219130″ link="https://www.keyshot.com/customers/jason-tonks/" description="LS0tLS0lM0NiciUzRSUwQUphc29uJTIwVG9ua3MlMjBpcyUyMGElMjAzRCUyRkNvbmNlcHQlMjBBcnRpc3QlMjB3b3JraW5nJTIwd2l0aCUyMEJldGhlc2RhJTIwR2FtZSUyMFN0dWRpbyUyMGluJTIwTW9udHJlYWwlMjB3aG8lMjBhbHNvJTIwdGVhY2hlcyUyMGF0JTIwU3luJTIwU3R1ZGlvLiUyMFdlJTIwdGFsayUyMHdpdGglMjBoaW0lMjBtb3JlJTJDJTIwbGVhcm4lMjBhYm91dCUyMGhpcyUyMGluc3BpcmluZyUyMHBhdGglMjB0byUyMHRoZSUyMGRpZ2l0YWwlMjBhcnRzJTJDJTIwd2h5JTIwS2V5U2hvdCUyMGlzJTIwYW4lMjBpbXBvcnRhbnQlMjBwYXJ0JTIwb2YlMjBoaXMlMjB3b3JrZmxvdyUyMGFuZCUyMGdldCUyMHNvbWUlMjBncmVhdCUyMGFkdmljZSUyMGFsb25nLi4uJTIw" color="#ededed" uc_fonts_data="JTdCJTIydGl0bGUlMjIlM0ElN0IlMjJmb250LWZhbWlseSUyMiUzQSUyMlJvYm90byUyMiUyQyUyMmZvbnQtd2VpZ2h0JTIyJTNBJTIyNTAwJTIyJTJDJTIyZm9udC1zaXplJTIyJTNBJTIyMjRweCUyMiU3RCUyQyUyMmRlc2NyaXB0aW9uJTIyJTNBJTdCJTIyZm9udC1mYW1pbHklMjIlM0ElMjJSb2JvdG8lMjIlMkMlMjJsaW5lLWhlaWdodCUyMiUzQSUyMjEuN2VtJTIyJTJDJTIyY29sb3IlMjIlM0ElMjIlMjM2YjZkNmYlMjIlN0QlMkMlMjJyZWFkX21vcmVfdHh0JTIyJTNBJTdCJTIyY29sb3IlMjIlM0ElMjIlMjMwMDAwMDAlMjIlN0QlN0Q="]