The Single Source to Manage and Use All Digital Assets
Designed by designers for designers, AVAIL's graphical interface allows you to find and use your content faster. AVAIL supports all file types – from Revit Standards Library to inbound manufacturer content, your visualization group's materials and textures, project photos, PDF cut-sheets and everything in between.

Search Made Easy
AVAIL indexes all the content on your local drive or network. Add tags to your content and find it easier than searching through endless windows file folders.

Revit Workflow
AVAIL's Revit Content Browser integrates seamlessly with Revit. Load families directly into your projects. Access all your previous projects inside of AVAIL and save time.

Simplify the Process
AVAIL is designed to make your production process simpler and reduces the number of steps to create your work allowing you to quickly find trusted resources and create smarter designs.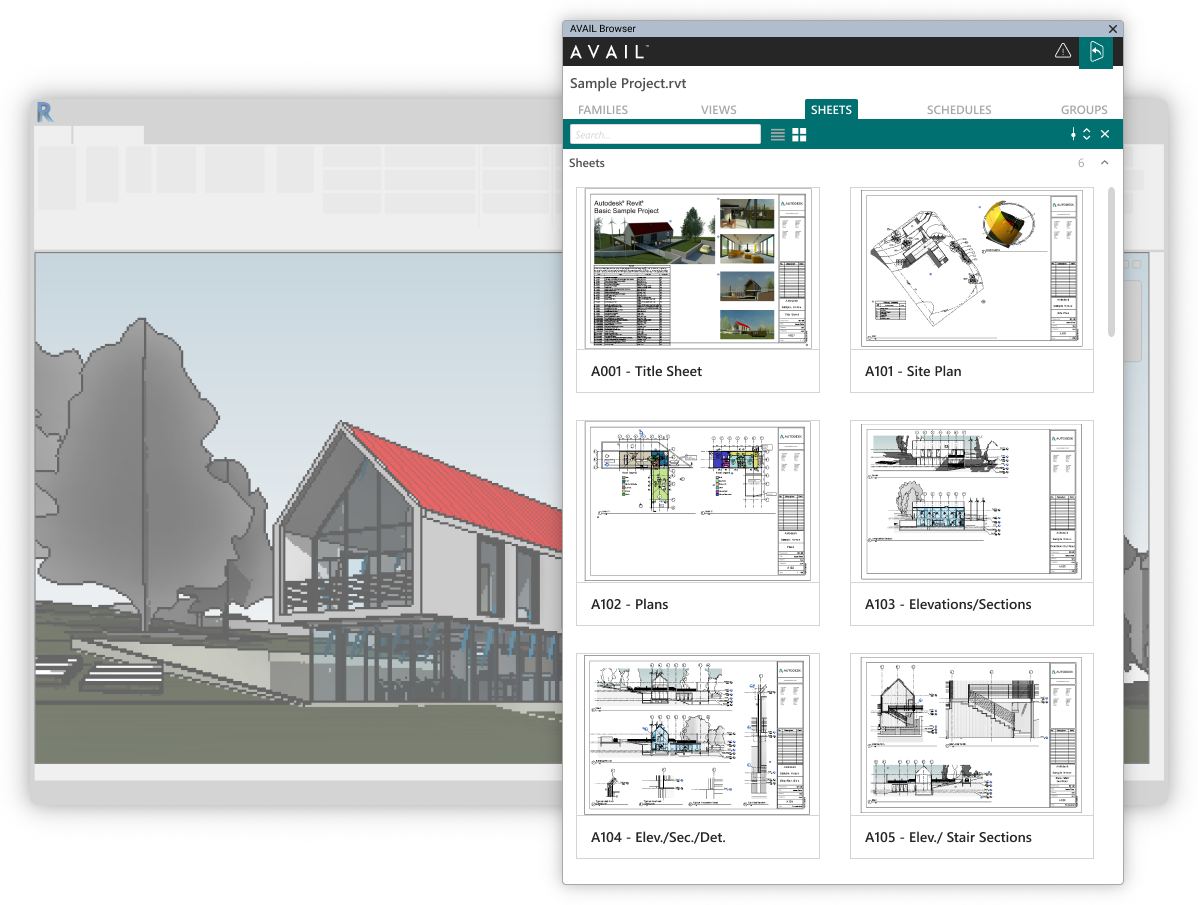 New Project Mode provides a stunning visual overhaul of Revit's built-in Project Browser complete with thumbnails of Views and Sheets.
View thumbnails
Organize content using channels
Filter content with tags
Click file to launch application with content already opened
Drag and drop file directly into your project
Content Management for Revit
Flexible Design to
Manage All Your Content
Uncover insights buried in your data and work flows, allowing you to efficiently manage your most mission critical assets.
View thumbnails
Organize content using channels
Filter content with tags
Click file to launch application with content already opened
Drag and drop file directly into your project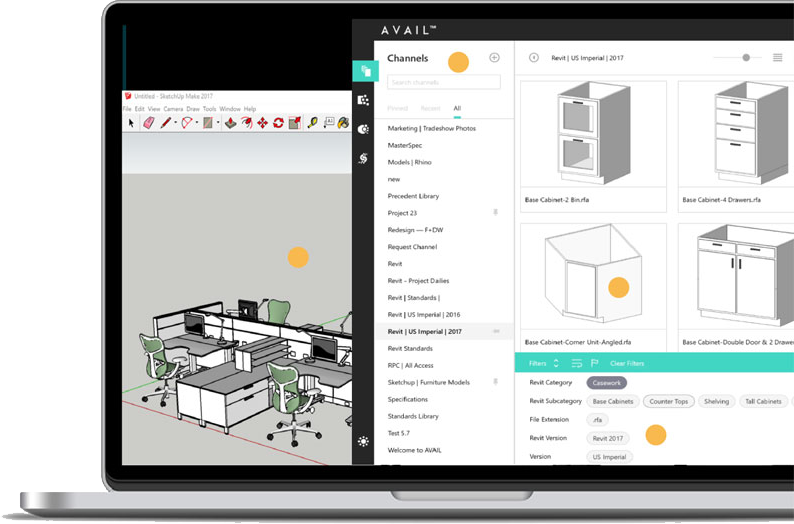 AVAIL
SINGLE USER
Create channels
Manage content
AVAIL Content Browser for Revit

P

P

P

P

P
AVAIL
BASIC
Create and manage channels
Share content libraries
AVAIL Management Portal
Customized thumbnails
Browse and use shared channels
AVAIL Content Browser for Revit
Basic AVAIL analytics

P
AVAIL
TEAM
Starts with 25 users
All BASIC PLUS features
Analytics for AVAIL
Content Browser
Role-based permissions
App feedback from team

P

P
AVAIL
ENTERPRISE
Starts at $200
per user/year
All Features of TEAM Plus
Single sign-on authentication
Advanced analytics
Set up user groups into their real-world teams

P

P

P
[ucaddon_content_box_zoom_effect title="Webinar Series" image="220280″ link="https://getavail.com/webinars/" description="LS0tLS0lM0NiciUzRSUwQSUzQ3AlMjBzdHlsZSUzRCUyMnRleHQtYWxpZ24lM0ElMjBsZWZ0JTNCJTIwcGFkZGluZy1sZWZ0JTNBJTIwMTBweCUzQiUyMiUzRUFWQUlMJTIwaG9zdHMlMjB3ZWJpbmFycyUyMG9uJTIwYSUyMHJlZ3VsYXIlMjBiYXNpcy4lMjBTdGF5JTIwaW4lMjB0aGUlMjBsb29wJTIwYW5kJTIwbGVhcm4lMjBob3clMjB5b3UlMjBjYW4lMjBjb25xdWVyJTIweW91ciUyMHZhcmlvdXMlMjBjb250ZW50JTIwbWFuYWdlbWVudCUyMG5lZWRzLiUyMEFzJTIwbmV3JTIwZmVhdHVyZXMlMjBhcmUlMjByZWxlYXNlZCUyQyUyMHBhcnRuZXIlMjBwcm9kdWN0cyUyMGFyZSUyMGludHJvZHVjZWQlMjBvciUyMHVwZGF0ZWQlMjB5b3UlMjB3aWxsJTIwYmUlMjBpbiUyMHRoZSUyMGtub3cuJTNDJTJGcCUzRSUwQQ==" color="#009ca0″ read_more_txt="REGISTER NOW" uc_fonts_data="JTdCJTIydGl0bGUlMjIlM0ElN0IlMjJmb250LXdlaWdodCUyMiUzQSUyMjUwMCUyMiUyQyUyMmZvbnQtc2l6ZSUyMiUzQSUyMjI0cHglMjIlN0QlMkMlMjJkZXNjcmlwdGlvbiUyMiUzQSU3QiUyMmxpbmUtaGVpZ2h0JTIyJTNBJTIyMS43ZW0lMjIlMkMlMjJjb2xvciUyMiUzQSUyMiUyMzZiNmQ2ZiUyMiU3RCUyQyUyMnJlYWRfbW9yZV90eHQlMjIlM0ElN0IlMjJmb250LXdlaWdodCUyMiUzQSUyMjUwMCUyMiUyQyUyMmZvbnQtc2l6ZSUyMiUzQSUyMjIwcHglMjIlMkMlMjJjb2xvciUyMiUzQSUyMiUyM2ZmZmZmZiUyMiU3RCU3RA=="]
[ucaddon_content_box_zoom_effect title="Success Stories" image="220283″ link="https://getavail.com/success-stories/" description="LS0tLS0lM0NiciUzRSUwQSUzQ3AlMjBzdHlsZSUzRCUyMnRleHQtYWxpZ24lM0ElMjBsZWZ0JTNCJTIwcGFkZGluZy1sZWZ0JTNBJTIwMTBweCUzQiUyMiUzRUFWQUlMJTIwaGFzJTIwYW4lMjAlMjJBJTIyJTIwbGlzdCUyMG9mJTIwY3VzdG9tZXJzJTIwd2hvJTIwYXJlJTIwdmVyeSUyMHN1Y2Nlc3NmdWwlMjB3aXRoJTIwQVZBSUwuJTIwQ2hlY2slMjBvdXQlMjB0aGUlMjBzdG9yaWVzJTIwc29tZSUyMG9mJTIwdGhvc2UlMjBjdXN0b21lcnMlMjBoYXZlJTIwYWJvdXQlMjB0aGUlMjBpbXBhY3QlMjBBVkFJTCUyN3MlMjBuZXdlc3QlMjB0ZWNobm9sb2dpZXMlMkMlMjBlZmZpY2llbmNpZXMlMkMlMjBhbmQlMjB3b3JrZmxvd3MlMjBmb3IlMjBkZXNpZ24lMjB0aHJvdWdoJTIwbWFudWZhY3R1cmluZyUyMGhhdmUlMjBvbiUyMHRoZWlyJTIwYnVzaW5lc3Nlcy4lM0MlMkZwJTNFJTBB" color="#009ca0″ read_more_txt="READ MORE" uc_fonts_data="JTdCJTIydGl0bGUlMjIlM0ElN0IlMjJmb250LXdlaWdodCUyMiUzQSUyMjUwMCUyMiUyQyUyMmZvbnQtc2l6ZSUyMiUzQSUyMjI0cHglMjIlN0QlMkMlMjJkZXNjcmlwdGlvbiUyMiUzQSU3QiUyMmxpbmUtaGVpZ2h0JTIyJTNBJTIyMS43ZW0lMjIlMkMlMjJjb2xvciUyMiUzQSUyMiUyMzZiNmQ2ZiUyMiU3RCUyQyUyMnJlYWRfbW9yZV90eHQlMjIlM0ElN0IlMjJmb250LXNpemUlMjIlM0ElMjIyMHB4JTIyJTJDJTIyY29sb3IlMjIlM0ElMjIlMjNmZmZmZmYlMjIlN0QlN0Q="]
[ucaddon_content_box_zoom_effect title="Regular Updates" image="220289″ link="http://blog.getavail.com/" description="LS0tLS0lM0NiciUzRSUwQSUzQ3AlMjBzdHlsZSUzRCUyMnRleHQtYWxpZ24lM0ElMjBsZWZ0JTNCJTIwcGFkZGluZy1sZWZ0JTNBJTIwMTBweCUzQiUyMiUzRVdvdyUyMSUyMFdlJTIwdGhpbmslMjB0aGF0JTI2cnNxdW8lM0JzJTIwZ29pbmclMjB0byUyMGJlJTIweW91ciUyMHJlYWN0aW9uJTIwdG8lMjB0aGlzJTIwbGF0ZXN0JTIwcmVsZWFzZS4lMjBFdmVuJTIwdGhvdWdoJTIwdGhlJTIwZGV2JTIwdGVhbSUyMGhlcmUlMjBhdCUyMEFWQUlMJTIwd2VyZSUyMGNhbGxpbmclMjB0aGlzJTIwYSUyMCUyNmxkcXVvJTNCaGFyZGVuaW5nJTIwYmxvY2slMjZyZHF1byUzQiUyMG9mJTIwd29yayUyQyUyMHRoZSUyMGltcGFjdCUyMG9uJTIweW91JTIwYW5kJTIweW91ciUyMHRlYW0lMjZyc3F1byUzQnMlMjB3b3JrZmxvdyUyMGlzJTIwdHJlbWVuZG91cy4lM0MlMkZwJTNF" color="#009ca0″ read_more_txt="More News" uc_fonts_data="JTdCJTIydGl0bGUlMjIlM0ElN0IlMjJmb250LXdlaWdodCUyMiUzQSUyMjUwMCUyMiUyQyUyMmZvbnQtc2l6ZSUyMiUzQSUyMjI0cHglMjIlN0QlMkMlMjJkZXNjcmlwdGlvbiUyMiUzQSU3QiUyMmZvbnQtc2l6ZSUyMiUzQSUyMjE0cHglMjIlMkMlMjJsaW5lLWhlaWdodCUyMiUzQSUyMjEuN2VtJTIyJTJDJTIyY29sb3IlMjIlM0ElMjIlMjM2YjZkNmYlMjIlN0QlMkMlMjJyZWFkX21vcmVfdHh0JTIyJTNBJTdCJTIyZm9udC1zaXplJTIyJTNBJTIyMjBweCUyMiUyQyUyMmNvbG9yJTIyJTNBJTIyJTIzZmZmZmZmJTIyJTdEJTdE"]